Trustwave
Trustwave is the leading provider of on-demand data security and payment card industry compliance management solutions to businesses and organizations throughout the world. Trustwave has helped thousands of organizations - ranging from Fortune 500 businesses and large financial institutions to small and medium-sized retailers-manage compliance and secure their network infrastructure, data communications and critical information assets.
Smart security on demand
With patented technologies, integrated solutions, a complete managed services portfolio and 24/7 global support, we help you turn security into a predictable operating expense while gaining essential insights-so you can do more with what you have, while strengthening your security posture.
Compliance on Demand
With a multi-compliance framework and automated, cloud-based management platform, we help you find and resolve deficiencies quickly and establish a sustainable process around compliance and risk management no matter what changes in your environment.
Intelligence on Demand
Powered by the experts of Trustwave SpiderLabs, we help you improve threat intelligence across your environment and your business. Through managed security testing, incident readiness and response, and proactive threat research, our elite team works with you to better understand cyber risks and potential vulnerabilities to protect against threats before they impact your business.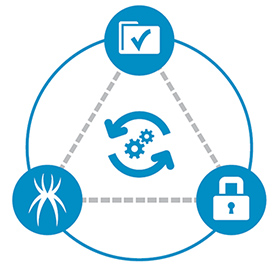 Trustwave Secure Email Gateway (SEG)
Protecting your organization's email environment against advanced malware and preventing loss of corporate intellectual property while managing complex compliance policies can be a daunting challenge. Trustwave Secure Email Gateway (SEG) achieves all this with a single solution that provides advanced protection against modern threats, unmatched policy configuration and in-depth data security and compliance management. Trustwave SEG provides complete email security, compliance and acceptable use controls for organizations of all sizes.